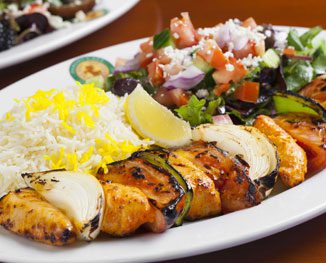 PKG is proud to prepare healthier, Mediterranean food for all to enjoy from a true scratch kitchen. We are committed to making our food in-house from scratch every day, with fresh and high-quality ingredients delivered 7 days a week.
All are proudly made in-house every day from the freshly grilled kabobs to the homemade soups and even down to the refreshing salad dressings.
Here's why PKG kabobs aren't just your regular kabobs:
Each kabob is prepared with healthy proteins like ABF (antibiotic and hormone-free) chicken, all-natural beef, sustainably raised fresh Atlantic salmon, organic tofu, and elder mushrooms. They not only TASTE better but are better for you versus proteins loaded with chemicals and preservatives.
Each kabob is grilled to perfection upon order. We always prepare our food from scratch daily with exceptional quality, fresh ingredients. Our food is never sitting around, waiting to be warmed up but is made as soon as you place your order for homemade taste and quality.
Once you give us a try, we guarantee you'll find yourself coming back to us for all occasions. PKG is open 7 days a week. We can't wait to serve you.
Please click on any logo below for more information regarding our vendors.