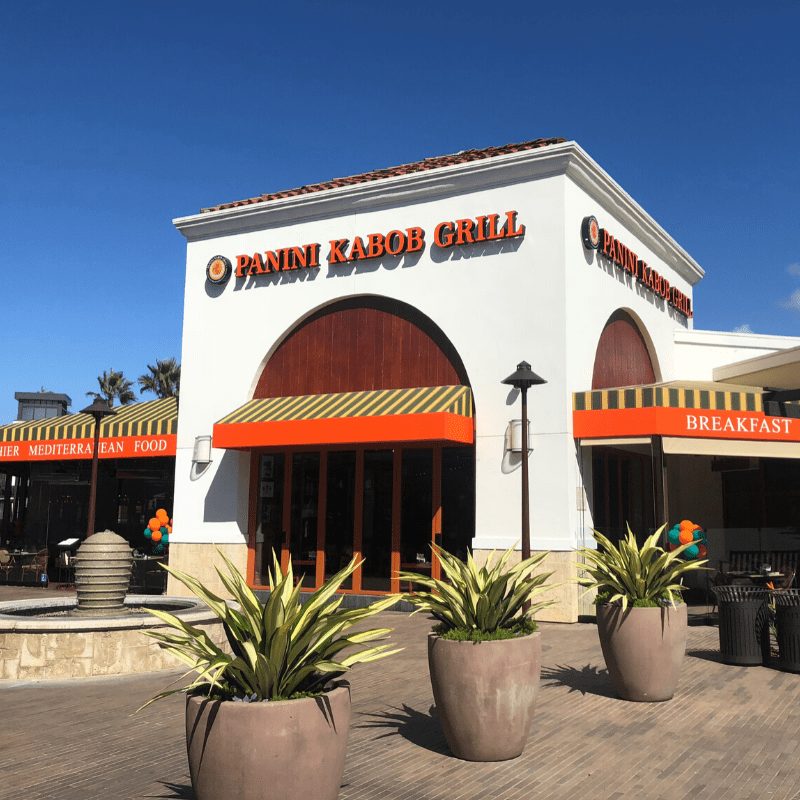 A Mediterranean Restaurant Near You…
Check out the exciting new PKG restaurants opening soon in a neighborhood near you! Over the last few decades, Panini Kabob Grill has seen tremendous growth and demand. For example, guests would visit our restaurants on vacation, then travel home only to crave our freshly grilled and deliciously marinated chicken kabobs. Alternatively, students would spend their whole college career ordering our generous takeout portions, then move away and find that we're too far away! We have received requests to open more Mediterranean restaurant locations near and far. As our fans multiplied in different areas, we also decided that we needed to expand into these communities.
Panini Kabob Grill now has many warm and inviting restaurant locations across Southern California, including Orange County, Los Angeles, San Diego, Inland Empire, and Kern County. We are growing rapidly, with plans to open our first location out of state. Be sure to look for updates on where we're going next – it might just be down the street in your neighborhood!
ESTABLISHED IN 1997
Orange County
Anaheim (The Mix) | Brea | Corona Del Mar | Irvine Park Place | Irvine Los Olivos | Mission Viejo | Santa Ana
Los Angeles County
Burbank | Century City | Cerritos | Downtown Los Angeles | Downtown Long Beach | Long Beach Exchange (LBX) | Woodland Hills
Inland Empire
Rancho Cucamonga (Victoria Gardens) | Riverside (Galleria at Tyler)
San Diego County
Carlsbad (Bressi Ranch) | Del Mar | Mission Valley
Kern County
COMING SOON
These restaurants are opening soon. Please note that these dates and timeframes are an estimate and subject to change. Stay tuned and follow us on social media or subscribe to our email newsletter to be the first to know once we release finalized opening dates!
Opening 2023
Culver City (Westfield Culver City) | Glendale (Glendale Galleria) | Marina Del Rey (Villa Marina Marketplace) | San Diego (Westfield UTC) | Sherman Oaks (Westfield Fashion Square)
FUTURE LOCATIONS
Our team is constantly working hard to expand our reach and bring our unique, fresh Mediterranean restaurants to a neighborhood near you. We are exploring our options in Downtown Los Angeles, Woodland Hills, Marina Del Rey, Eastvale, San Diego, and even out-of-state in Las Vegas (Nevada) and Scottsdale (Arizona).
Please continue to visit our website, subscribe to our email newsletter, or follow us on social media, where we will announce new locations coming soon!
Submit Real Estate Site Submittals Here:
Do you know the perfect spot for PKG to open next? Please reach out to our in-house broker below.
ESDI, Inc. – Massy Farzine
[email protected]
(949) 252-5330
---